All your favorite flavors of fall combined with hearty chicken in one incredible bite! Super easy recipe with simple instructions for a paleo mayo dressing included. Link to Original Post & Recipe: Paleo Chicken Apple Cranberry Pecan Salad
Chicken Apple Cranberry Pecan Salad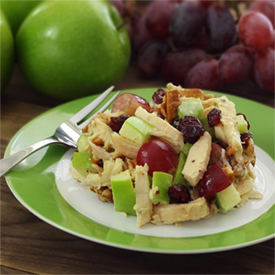 Ingredients
Salad Ingredients

4 cups shredded chicken – I used rotisserie
1 cup chopped pecans
1 cup chopped celery
1 cup sliced red grapes
1 apple cored and chopped – I used Granny smith
1 cup dried cranberries
2-3 tbs finely-chopped shallot or red onion (use more if you like)

Mayo Dressing Ingredients

1 egg
2/3 cup avocado oil (or extra virgin olive oil)
1 tsp lemon juice
1 tsp dijon mustard
1 tsp raw honey
Salt and pepper to taste
Instructions
Toss all the salad ingredients together in a big bowl
To make the dressing, use a immersion blender in a tall container. Mix the egg, oil, lemon juice, mustard and honey. Next salt and pepper to taste. You can add anything you want to this basic mayo – herbs, honey, or whatever!
Mix the mayo into your salad – as much or little as you like
Eat up!
This makes a big bowl of salad, plenty for a party or leftovers!
http://www.paleonewbie.com/recipe-salads/chicken-apple-cranberry-pecan-salad/
For more delicious and easy recipes, visit us at PaleoNewbie.com